Cruz's mother brought him to me for photos in November to make the sculpture for her husband as a Christmas present. She knew he was getting up there in age and they would lose him soon. As it turned out Cruz passed in January of the following year, however they still have his sculpture in their kitchen garden window to remind them every day of the Joy Cruz brought to their lives.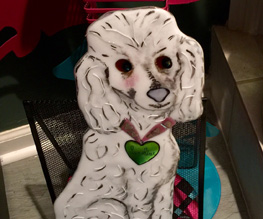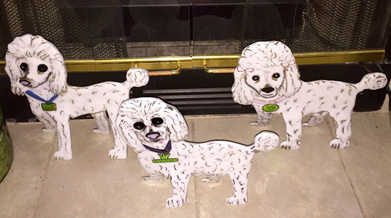 "Sweet Pea", "Baby Doll" and "Napoleon"  Standing by the fireplace together again!!

"Sunshine" (right) from Florida Poodle Rescue came to help Napoleon (above center) after the loss of his "Packmates"of 15 years "Sweet Pea" on the left and "Baby Doll" on the right 

Pet Memorials
Click images to enlarge
Pet memorials in fused glass. Have a remembrance of your pet always to make you smile!!

For full information about having a standing or sitting fused glass pet memorial done of your pet please contact me...